Ellijay Exterior Painter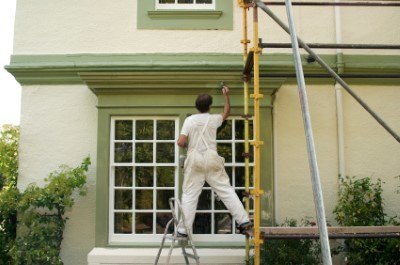 Elaran Painting knows what it takes to create a custom exterior painting project that will beautify your home or office and transform your vision into a reality - and we do it on time and budget.
While you might feel that exterior painting is a personal choice, there's a good deal of sense to the painting restrictions that some Ellijay homeowners face. A garish purple house with Halloween orange shutters on the block can effectively make it almost impossible for anyone else in the neighborhood to get full value for their home if they choose to sell. A cohesive house painting color scheme that's carried on from property to property adds enormously to the appeal of a neighborhood.
Our professional Ellijay Exterior Painting contractors prepare the surface of your home to ensure the best paint adhesion. Contaminants such as dirt, mold and mildew, car exhaust and loose dirt can affect the quality of the exterior painting job! By hiring Elaran Painting, you can rest assure that our exterior painters will give you a high quality exterior paint job will survive the hot summers and cold winters without blistering, cracking or peeling. It will also properly seal your home or office's exterior from moisture, mildew, dry rot, termites and other damaging environmental factors.
Our Ellijay Exterior Painter provides these detailed services
Exterior Painting
Exterior Paint
House Painters
Trim Painting
Eco Friendly Painting
Painting Service
North Georgia House Painting
Commercial Painting
Residential Painting
We provide Exterior Painter Services in the following areas:
Canton | Jasper | Ellijay | Blue Ridge | Blairsville | Hiawassee | Murphy
Why Ellijay Should Hire Us For Their Exterior Painter
You will know what is being done, and exactly what it will cost, no surprises! There is no up front cost to you so you do not have to worry about contractor running off with your money, and you know you will be happy at the end, or you don't have to pay. You can rest easy knowing that we will come back and take care of your home. You will have choices, and the confidence knowing that you made a good decision in the durability of your home. Every challenge that you can encounter in painting or staining a house or building, Alberto and Manuel have already run into and solved years ago.
Recent Articles About Exterior Painting
If you are looking for a Northern Georgia Exterior Painting professional then please call 706-889-3112 or complete our online request form.