Retaining Walls For Landscaping In North Georgia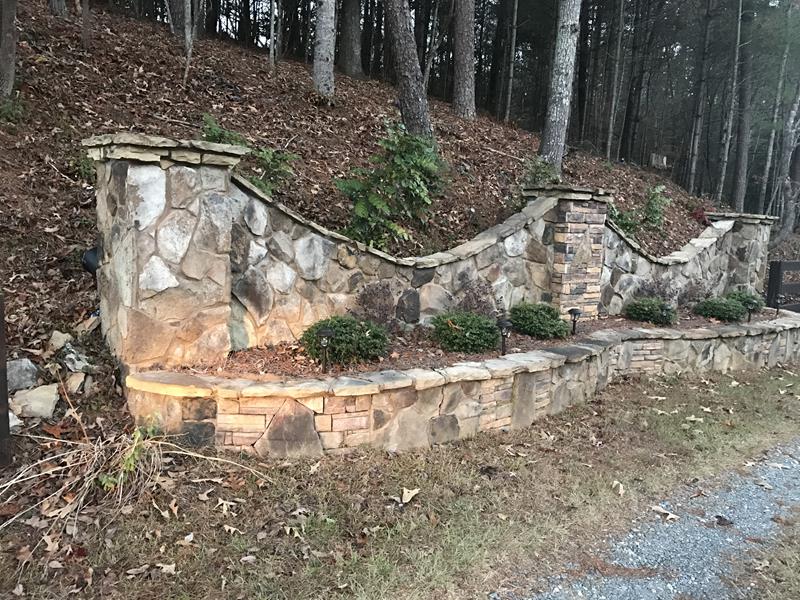 Retaining walls are built to route rainwater flow on your property. But, they also serve an aesthetic purpose, enhancing the beauty of the landscape.
A retaining wall can be constructed at just about any height. Shorter retaining walls are great to edge flower beds. Higher retaining walls can be built to define and enhance the driveway entrance to your property.
Our North Georgia exterior service crew can design and build retaining walls of any type to enhance your landscaping.
Solidly built construction is vital for retaining walls. There are many dynamics to the construction that have to be taken care of in order for them to stand strong throughout time.
Elaran Painting has the experience to build long-lasting, beautiful retaining walls for your North Georgia landscape. Let's discuss the project today.
Stone
Dry Stack Stone
Boulders
Bricks
Concrete Molds
Concrete Blocks
Short Retaining Walls
Retaining walls can be built around your flower beds or to serve as planters. The shorter retaining wall is perfect to keep garden or flower bed soil where it should stay to nourish plants. A waist-high retaining wall is better suited for routing away rainfall, defining or blocking areas, or adding a larger decorative element to the landscape.
Higher Retaining Walls For Sloping Landscapes
A high retaining wall is necessary in many cases, especially for sloping landscapes. The wall literally holds back the soil so it doesn't erode down the hill. This type of retaining wall can be as equally beautiful as any other decorative retaining wall.
Retaining Walls - Stone Driveway Entrance Fence With Columns
A retaining wall doesn't have to be boring. Whether it's a large, formal stone entry or something short and sweet, there are many ways to design the entrance fence.
A stone entrance fence is absolutely gorgeous, rustic, and romantic if designed and built right. The stone columns mark the entrance to your property while the fence continues to another section or more for the proper effect. They also serve to route rainwater away from the driveway to keep it from flooding.
If you need Retaining Walls for your North Georgia landscape, please call 706-889-3112 or complete our online request form.