Rustic Cabinets In North Georgia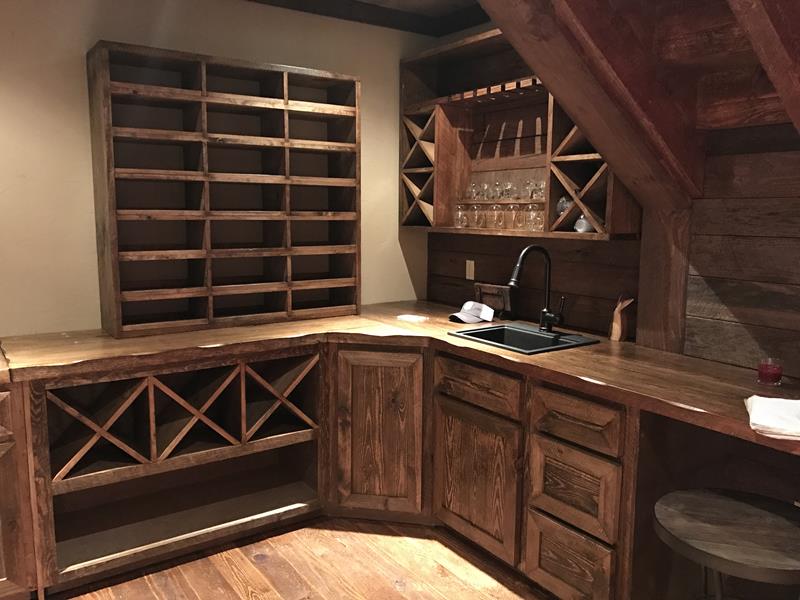 If you love a rustic design style, why not outfit your kitchen with rustic cabinets? Our rustic cabinets are custom made in unique designs to enhance the beauty of your home. Our rustic cabinets are great for any room.
Need a wet bar? We can design and build one for you complete with wine rack, wine glass rack, counter top, display shelving, bar stools, countertop, and storage cabinetry.
Elaran Painting is your local North Georgia exterior service expert at staining and finishing, so you can count on your new rustic cabinets to uplift and blend in nicely with the style of your home. Our rustic cabinets are professionally made with quality construction and a flawless finish.
Whether you want rustic cabinets in your family room for storage, kitchen for custom cabinetry, bathroom as a vanity, or anywhere else in your home, call experts and tell us your ideas.
Quality Custom Made Rustic Cabinets
Exceptional, Solid Carpentry
An Array of Beautiful Designs & Finishes
Serving North Georgia Since 2003
Industry Experience Since 1989
Up Front Pricing
Guaranteed Workmanship
Rustic Kitchen Cabinets
There's nothing that says you have to pick out kitchen cabinets that are standard made at a factory. Custom cabinetry is and always will be the most beautiful cabinetry you can install in your home. Rustic kitchen cabinets take that customized feel and raise the bar over the top. With the help of Elaran Painting, your new kitchen space will look completely unique and exceptional.
Rustic Bathroom Vanities
Cabinets that look like furniture pieces are always going to be in style. With a rustic bathroom vanity complimented by a small or large storage cabinet, the design of the bathroom is enhanced to a new level. Let us take a look at your bathroom and go over some ideas with you today.
Rustic Storage Cabinets
The living room or family room is a place where families get together for entertainment. With the addition of storage cabinets, there is a place to keep games and store pillows, throw blankets, and other things. Rustic storage cabinets enhance the relaxed feeling of the space. They go beautifully with a fireplace, enhancing the romantic, calming feel of the room.
Rustic Entertainment Cabinetry
Rustic Wall Cabinets
Rustic Dining Room China Cabinets
Rustic Wine Rack Cabinets
Rustic Curio Cabinets
Photo Gallery
If you are looking for beautiful custom Rustic Cabinets in North Georgia, please call 706-889-3112 or complete our online request form.