Pressure Washing & Staining In Cherry Log, GA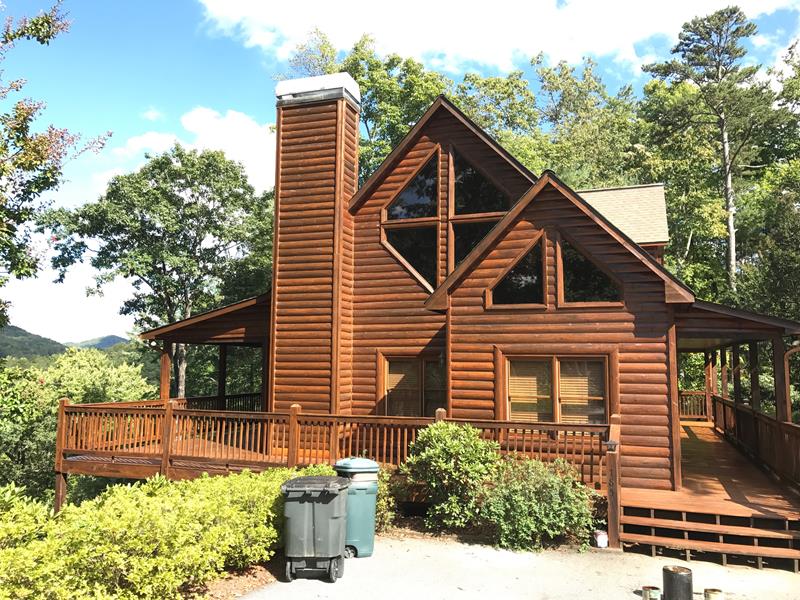 Our team of staining and painting professionals here at Elaran Painting were recently give the opportunity to showcase some of our talent by performing some of our high quality work on this customer's home in Cherry Log. We started this project by pressure washing the entire cabin and applying the bleach to ensure that there was no trace of any mildew or dirt on the surface of the home that could affect the stain. After this in-depth cleaning, we allowed the customer's home to dry over the course of the weekend and started to apply the stain on Monday. The stain we applied to our customer's home is a product sold by Sherwin-Williams called Structures Wood Care, which is a two-part system that uses a base coat and one additional coat to make sure that the home comes out with a thorough and even stain. On the first day of the staining process, we applied the base coat on two sides of the house and on the deck railing and floors. The next day, we finished the base coat on the last couple parts of the home, and applied the second coat after everything had dried.
By the time it was all said and done, this project took a solid three days of work, but we believe the results were well worth the wait. As an added benefit, we even made sure to clean all of the windows once all of the staining work had been completed. We also went over the whole house to see if any areas were in need of caulking, but everything was in good order and didn't require any further work. Our customers couldn't be happier with the results of their work. They just love the new, rich look to their wood, and we can't say we blame them. If you are interested in attaining work like this for your North Georgia home, don't hesitate to call the professionals at Elaran Painting today.
Photo Gallery
---
If you are looking for a Cherry Log painting and staining professional then please call 706-889-3112 or complete our online request form.